Follow your learners' progress over time!
Features
MOS Chorus records numerous pieces of information in its database, such as: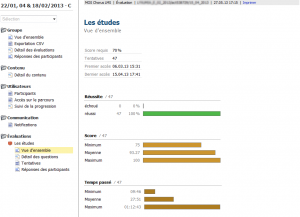 Site structure
Catalogue content
Aspects of presentation
Information on users
Follow-up on questionnaires and appraisals
Information on the collaboration
Customer's benefits
The information is summarized and organized contextually (meaning at each stage of the application). All reports can be exported in csv or html format.
The tracking and reporting on the training activities are fully optimized on this LMS platform.