Happy holidays and all our best wishes 2017!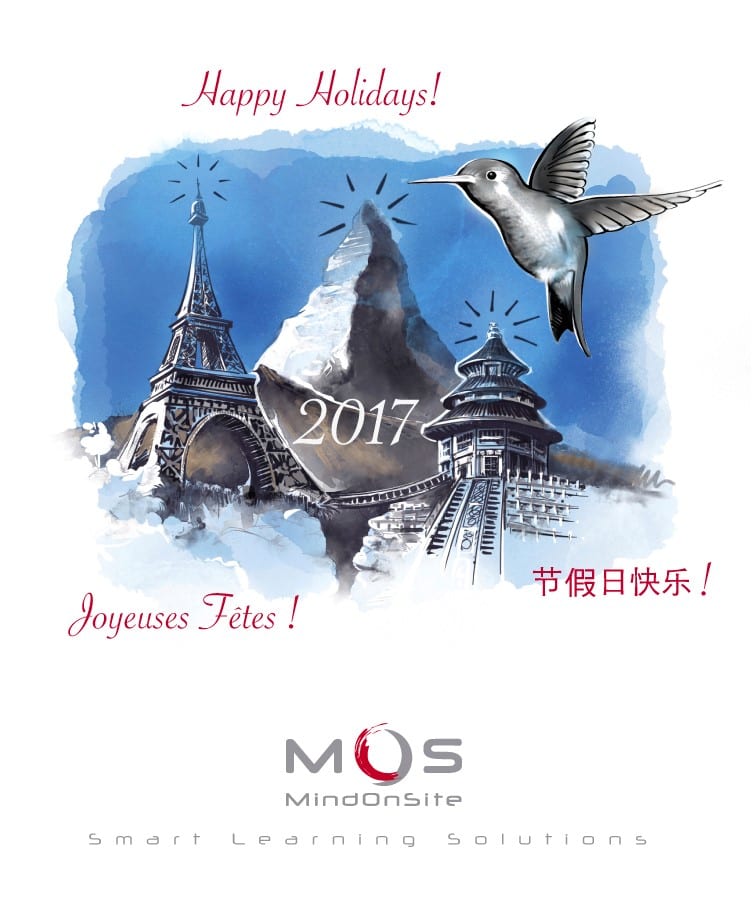 We thank you for your continuous trust and we look forward to working with you next year. We wish you Happy Holidays and our best wishes 2017!
We continue our missions beyond borders…
We continue our commitment in an even more international perspective, thanks to our unique alliance with Weidong Cloud Education, leader of training in China and the world's leading UNESCO partner in the field of education.
The Demos Group, our head office in France, has joined forces with the Weidong Group. The aim of this union is to become the world leader in Learning & Development by combining the technological expertise of MOS – MindOnSite and the pedagogical knowledge of Demos, with the technical and financial might of the Weidong Group.
A partnership to become the world leader in Learning & Development
This partnership has a clear objective: "To make training, whether continuous or initial, available to as many people as possible. This requires strong digitalisation, significant resources and a real reputation. The synergies between Demos and Weidong give us exactly what we need to achieve this goal," says Dai Shen, CEO of Demos.
About Weidong Cloud Education

As a leading trainer in China, the mission of Weidong Cloud Education is to make lifelong training accessible to as many people as possible and make educational technologies global.
Weidong Cloud Education focuses on online education and has created an advanced platform for educational services through providing resources globally.
As the first UNESCO World partner in the field of education, it provides quality resources in 195 countries worldwide via a virtual classroom platform. In 2015, the Weidong Group launched the Global Alliance for Internet Education, along with the UNESCO and the Chinese National Centre for Educational Technology.
About Demos Group
Since 1972, Demos Group has grown to become a preferred partner of International companies and institutions for professional training and consulting. The group has the necessary expertise, flexibility and resources to support your organisation with its international learning and HR consulting projects.
The Demos Group is a global market leader in professional training. Building on its core business, Demos has developed innovative training methods that combine face-to-face and digital training. It has developed an outsourcing offer for training administration and trains tens of thousands of people each year on behalf of its clients.
Its presence in major French cities and several foreign countries, combined with expertise in all educational methods (especially digital), means that Demos is in a unique position to help organisations improve their performance through training.