Extended learning and learning portal: the 2 inseparable
In her October 2016 interview published in E-learning Letter, Elodie Primo, CEO of MOS – MindOnSite, takes stock of the Extended Enterprise Learning as an increasingly relevant learning modality.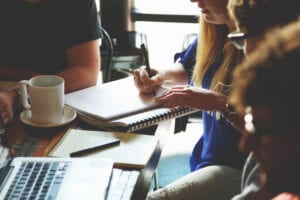 Elodie Primo shares with us her extensive experience in conceiving and implementing extended learning environment for her clients. Here below some of the key elements of her interview.
What is the extended learning? Why is it increasingly important?
"Extensive learning applies to learners outside an organisation. It targets dealers, distribution partners, suppliers, resellers, franchisees and even customers," explains Elodie Primo.
Extended learning is strategic for an organisation that aims at developping and supporting its sales activities.
More on Extended Enterprise Learning
Is this relevant to all sectors? What are its main targets? Sales are particularly concerned… Why? Can it be extended to customers themselves?
All sectors, whether it is industry, bancassurance or retail, are facing the same necessity to train their ecosystem. They certainly have their own requirements and specificities. It however remains essential for them to provide digital resources in a learning environment and to facilitate access to specific content.
Elodie Primo takes various examples to showcase the extensive learning implementation in voluntary and sport associations, in training organisations and in networks of sales forces. This latter is more than ever concerned. "A vendor in a multibrand boutique will preferably push the products he knows best and brands he feels most attached to. Poorly trained resellers could distort your brand or your product. Worse than not closing deals, they could damage your reputation. "
The same goes with customers. Companies want them to be fully satisfied and committed to their products and services. Extensive learning is an excellent mean to build customer loyalty and reputation.
Is Extensive Learning a new form of marketing?
Companies are turning to "Pedagogical Marketing" to deliver high-value content and move away from traditional commercial speeches. "Pedagogical marketing frequently uses digital training methods known for being highly engaging and appealing to users."
Does this coincide with learning portals?
Learning portals embody extensive learning. Our Smart Learning Portals are easy to deploy and fast to implement. They areready-to-use, fully customisable and adaptable to all types of learning targets. They offer an immersive space adapted to each sector's requirements and operational capability issues.
More on Smart Learning Portals
For further reading, you can download for free the white paper "The training in the extended enterprise: a model for the training department".