Come join us at iLearning Forum 2017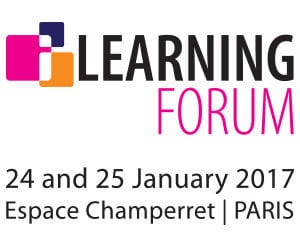 The No. 1 show in Digital Learning
iLearning Forum 2017 opens its doors on 24 and 25 January 2017 at Espace Champerret of Paris. It welcomes eLearning, Digital Learning, Professional Training and HR experts of the whole world.
The show confirms its positioning as the most important event in France in the field of the technologies at the service of learning. More than 100 exhibitors, international conferences and products workshops allow the 5'000 expected visitors from more than 40 countries to meet and discover the latest learning trends and innovation: learning management platforms, learning portals, simulations, interactive video, serious games, content development tools, Social Learning, Mobile Learning, Digital Learning…
MORE ON ILEARNING FORUM PARIS 2017
Come and meet with the Team MOS – MindOnSite
The Team MOS – MindOnSite is Gold Sponsor of this 2017 Edition.
We are at the B2/C2 booth with our partner Demos Group. Come to discuss your learning projects with our team of experts!
Join us in our conferences and product demo
Elodie Primo, CEO of MOS – MindOnSite, participates in conferences and product demo during those two days:
Tuesday 24 January from 1:30 pm to 1:45 pm: Product demo "Smart Learning Portals supporting Business" to discover "How to create your business-related learning portal very quickly with turnkey learning solutions"
Wednesday 25 January from 9:45 am to 10:45 am: Round Table on "LMS Platforms" with Elodie Primo's intervention on "LMS strategies, Digital transformation", to learn about "Digital trends, standards and ecosystems: LMS or LRS at the heart of learning?"
Wednesday 25 January from 4:45 pm to 5:00 pm: Conference opening keynote "Learning trends and new pedagogical tools" for an "Overview of current and future learning trends (standards, social learning, virtual and augmented reality, connected objects) and new learning technologies, from face-to-face to mobile learning" with Elodie Primo and Patrick Bérard, Demos Learning Lab Manager
more on the Conferences programme
Request your free badge!

Access to the iLearning Forum 2017 is free! Fill in the online form and ask for your free badge.