"7 lessons of Digital Learning without boarders"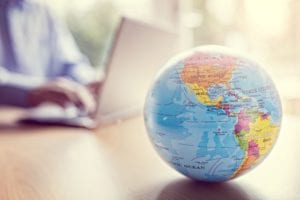 It is important to be inspired by digital learning as it is practised in French, and of course international companies. It is only by opening up to successful projects and practices and, it must be said, digital learning cultures observed "elsewhere", that we can enrich our own training baggage.
"Localisation" is the watchword currently abounding in major companies, as they are called to deliver training courses and contents in multiple languages; but localisation also requires the taking into account of cultural aspects, as localisation reduced to a simple translation into a different language does not always suffice to guarantee success.
Yet globalisation is also required, to pool everything possible in order to reduce superfluous costs, strengthen the sharing and readability of offers and the training processes and speed up the dissemination of
programmes.
And these two objectives – localisation and globalisation – are notincompatible. By contrast, the concept can be expressed through a neologism: "glocalisation"! Today, it is possible, indeed necessary, to apply the combination of localisation and globalisation in a training strategy.
7 key lessons for the global success of your Digital Learning system
1. Pay atention to UX-UI
In terms of ergonomics and usability, no significant differences between cultures. It is rather a different perception of design (tastes and colours). Continental Europeans prefer Scandinavian-style simplified models, Anglo-Saxons opt for Netflixstyle visual richness and Asians prioritise a wealth of functions and pages filled with information. To keep the majority happy, it is best to retain the wealth of functions in an ergonomic choice that is examined with different levels.
2. Start with a POC (Proof Of Concept)
Before global deployment, we first conduct a POC on a reduced, but international, population. We can then learn and improve on this scope if necessary
3. Be multicultural
Take into account the specific features of the different countries or populations: the relationship of foreign employees with time, confidentiality, hierarchy, the notion of the team or group. On the training itself, there are preferences in terms of the sense employed in acquisition (hearing, visual and kinaesthetic/touch), the individualist company vs the collectivist, differences in participation and speaking (Africans intervene spontaneously during a trainer's explanations whilst Asians tend to wait for them to finish).
4. Anticipate localisation
Envisage tools for translations in language tabs for both portals and contents.