MOS – MindOnSite celebrates its 15 years
Beautiful MOS Club 2016 edition in Lausanne
It is on 13 and 14 June, in the beautiful setting of the Alpha Palmiers hotel in the heart of Lausanne that the Team MOS – MindOnSite welcomed over 50 customers, for a very special MOS Club. Club of users annually organised in France and in Switzerland, the MOS Club brings together customers, partners and extended teams to share experience and good practice, to discover the latest trends in the field of digital learning and discuss MOS solutions evolutions.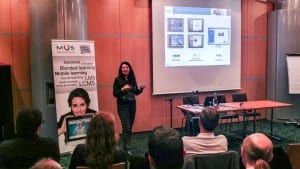 These two days, even though rainy, were very friendly, according to the guests' feedback! To the question "In 3 words, how would you summarise this year's MOS Club? ", emerged Friendly, Innovative, Rich, Varied, Human qualities and Rain.
Monday 13 June, after a lunch opening and happy reunion, the technical team presented the recent developments of the MOS Chorus LMS platform: novelties, recent developments, improvements, review of the MOS Analytics and MOS Calendar extensions.
Customers were then pampered aboard the CGN 's Belle Epoque boat "La Suisse" for a gourmet cruise on Lake Geneva. The Team MOS – MindOnSite celebrated its 15 years, surrounded by joyful customers!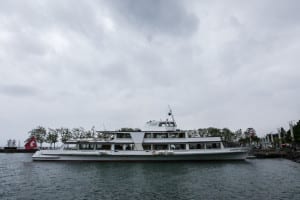 The second day was focused on customers with savvy and exciting feedback
KPI and learning analytics
Mobile Learning : online and offline, responsive and adaptive, recommendations
e-commerce and extended enterprise learning
Finally, the workshop "Place your bets!" aimed at collecting clients' technological and pedagogical wishes and needs ended the MOS Club.
The editor celebrates its 15 years!
As recalled Elodie Primo, CEO of MOS – MindOnSite, in her opening speech, the company was established in 2001 in Mies, on the shores of Lake Geneva in the region called La Côte. It originally conceived pedagogical activities, before taking the direction of developing technological solutions for the creation and distribution of learning programmes. Its first customers (Generali , Swisscom, France Telecom) then paved the way for the development of the Learning Management platform that still exists today.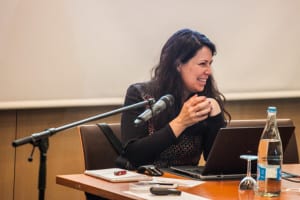 Elodie Primo took the opportunity to thank her guests for their valuable support, their enthusiasm, their ideas and their loyalty.
"MOS – MindOnSite exists thanks to you and you are ​​the most beautiful and rewarding R&D team an editor can ever dream about!"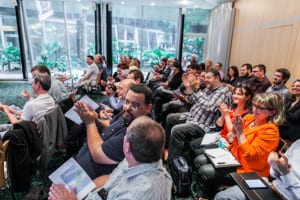 The Team MOS – MindOnSite celebrates this summer 15 years of expertise in digital learning, of custom-made and ready-to-use learning solutions developments and of experience in rich and varied business-related environements.