MOS Chorus is an integrated LMS/LCMS platform, comprising functional, complementary and fully integrated modules.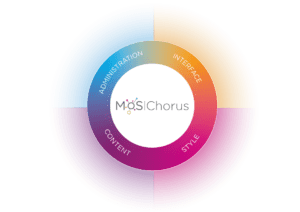 Administration tool
You manage all your platform in one single place (user database, content style and interface look & feel, portal and content access monitoring). The administration tool of MOS Chorus optimises the tracking and reporting on training activities. Very detailed information on users, assessments or resources are automatically saved and presented synthetically in more than 150 easily exportable predefined dashboards.
To reduce time spent on administration tasks, the MOS Chorus platform provides automated registrations (via rules) and self-registration tools.
The platform administration can be centralised (mono-site platform) or decentralised (multi-site platform). The multisite feature lets you manage several sites independently of each other with their own content, graphical look & feel and users list, from one single platform.
Content editor
You create all your training content without depending on an external provider: eLearning, classroom-based training, presentations, satisfaction surveys, questionnaires, evaluations, knowledge base, curricula.
The content editor of MOS Chorus offers 7 already integrated exercise models to enhance interactivity in your courses and create more than 30 types of exercises. You easily enrich your modules, by integrating documents, pictures, audio, clips, videos, flash animations, HTLM, AICC, SCORM 1.2 and 2004 content…
You design your courses in a collaborative way by allocating roles to each contributor and managing the production workflow.
Style editor
You adapt your training content to your graphical look and feel (lay-out, logo, colors, images…).
To save time in the content creation process, you have access to predefined styles in the style editor that you can modify in terms of elements (images, images, window sizes, navigation buttons) and features.
Interface editor
You customise the learning portal of your users and create a graphical and functional environment adapted to your learning target audiences and your training themes.
The interface editor of MOS Chorus lets you customise your users' learning portal, configure the information that is visible to users (news, announcements, available courses), and create and modify multilingual interfaces and modify the multilingual portals.
Communication tools
MOS Chorus provides Social Learning tools, to communicate (announcements, blogs), encourage dialogue (messaging, MOS Chat), facilitate knowledge and experience sharing (wiki), use virtual classes (MOS Virtual Classroom), ask questions (Forum) and give a rating to training activities and resources.
eLearning standards
Registered as a SCORM Adopter by ADL, MOS Chorus allows importing, reading, and monitoring content in HTML, AICC, SCORM 1.2, SCORM 2004 and soon with xAPI (formerly known as Tin Can). The SCORM standard facilitates the playing of compatible content (created on MOS Chorus, MOS Solo and any third party content editors), the automatic recording of detailed information (results, answers and progress) and the creation of real-time sequences of training activities.
You can choose to use all or parts of those functional modules.