Boost your training process thanks to gamification!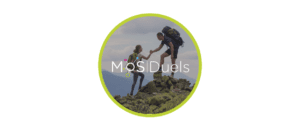 Challenge your teams thanks to the brand new MOS Duels extension developed by MOS – MindOnSite. This interactive game-style training extension will create within your training process a considerate, kind and friendly atmosphere. But above all, it will be favorable to knowledges acquisition.
Available on every devices thanks to its responsive design, MOS Duels extension will become your better ally to maximize your learners' commitment.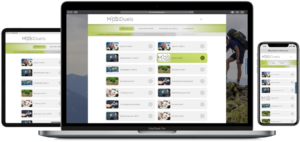 Several good reasons to include gamification in your training process
Encourage learners' commitment
Bring adherence and addiction
Learn without realizing
Increase learning quality
Motivate and attract interests
Generate emulation
 Test your team knowledges with Duels
A duel allows two users to confront themselves in an asynchronous way on a targeted course. Following the results, a ranking is established according to every user score on every duels.
The MOS Duels extension includes 4 main parts:
Launch a duel: Allows a user to defy another user on a course.
Pending duels: Retrieves all the duels launched by another user to the connected user.
Your duels history: Lists all the duels for the connected user.
Ranking: Displays the global ranking.
Coming from every duel done and according to its ranking, the learner can obtain badges and others rewards to encourage him going further.
 Do not miss a Duel!
Thanks to our notification system, be sure not to miss any duel!
As long as an opponent wishes to challenge you, you will receive a notification by e-mail to warn you! So, what are you waiting for?
 100% customizable platform 
MOS Duels portal offers a limitless customization to perfectly match with your graphic line, corporate identity or desires. Logotypes, colors, images, everything is customizable so as to offer to your learners a unique and enlightening experience.
For more information: