In her April 2016 interview published on the comparison website Bsoco, Elodie Primo, CEO of MOS – MindOnSite, announces the release of the Smart Learning Portals, new range of turnkey portals, and explains the origin of that new offer.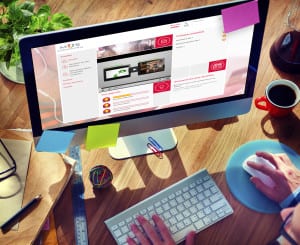 Start your digital training immediately with turnkey learning portals
Why this new offer?
"It is a complete learning solution that greatly simplifies the initiation of a learning project and accelerates its deployment. The Smart Learning Portals are prepackaged portals conceived by our business-related experts who observed and modelled customers' feedback and best practice, "says Elodie Primo.
What market demands does it answer?
It is based on the observation that because the training market is widespread, it has become difficult to get a complete and consistent digital project.
We have designed and implemented this series of business-related portals, using our rich experience and expertise in training and operational support. Organisations can choose from a series of existing graphic templates, components and business-related content, and launch their digital project very quickly.
How do you know each business sector's specific learning needs?
We work with field learning experts (aeronautic, agri-food, sales forces…) to map and model business-related portals in terms of features, design, ergonomics, and content.
"We are ourselves expert in our own field, providing digital solutions to numerous European clients for more than 15 years. We are true partners, from the portal co-creation until the launch and communication campaigns", explains Elodie Primo.
Ready-made and custom-made, how does that work?
As "Haute Couture portal designer", it is essential for us to stay agile in terms of graphical and fucntional customisation.
We offer 3 levels of customisation: 1. "Turnkey" for an immediate use, 2. "Customised", to provide more flexibility (design, features, and content), and 3. "Custom-made", entirely adapted.
More on Smart Learning Portals