This week's interview 2016 with Elodie Primo
The software comparison Bsoco publishes this week's interview 2016 with Elodie Primo, CEO of MOS – MindOnSite. Here is the hot news from the LMS software and innovative learning solutions editor.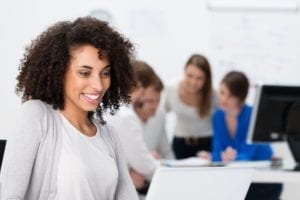 What are your immediate business development plans at the national and international levels?
Earlier this year, Demos Group was bought by Weidong Group. The technical and financial strengths of the Chinese group associated with the pedagogical and technological expertise of the European group, will speed up the national and international business development.
Our customers will benefit from technological and pedagogical innovation.
What are your company's strengths on the LMS market?
Elodie Primo highlights
The multisite aspect of MOS Chorus, to decentralise administration and create thematic portals
The facilitated management of training programmes
The customisation and gamification of learning portals, with gamified services and interfaces
The evaluation capabilities of the platform (satisfaction, knowledge, skills)
The analytics to provide granular and precise reporting
What makes you different?
We implemented the Smart Learning Portals to ease the initiation and the deployment of learning programmes
The Smart Learning Portals offer ready-to-use learning portals that are fully customisable in terms of functionality and appearance. They meet the learning challenges encountered in a particular business sector: Aerospace, Food, Bancassurance, Sales Forces, Onboarding …
MORE on the SMART LEARNING PORTALS
What is to be considered as "revolutionary" in the field of eLearning today?
For Elodie Primo, there is no doubt: the evolution of SCORM eLearning standards to xAPI, to access to more qualitative analytics.
"SCORM ensures the compatibility between content and learning management systems. it is perfect to distribute and track formal online content. With xAPI, all informal training courses (part of the 70:20:10) is recorded in a Learning Record Store (LRS).
Experiences such as reading a book, attending a conference, giving advice in your social network, or learning about an App, are recorded… All the experiences a learner might want to record is stored and usable."
(Available in French only)