As part of its mission to monitor the best providers of training services and technologies, eLearningIndustry announces its 2020 "Top 20 Best LMS based on Customer Experience"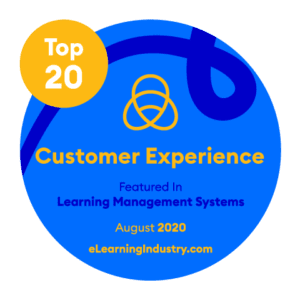 For the second time, MOS – MindOnSite is proud to be part of this ranking
This Top 20 LMS list has been planned following a holistic approach based on input from actual users who were willing to share their experience with the LMS.
The reviews have been verified one by one by eLearning Industry.
The order of appearance is a function of the following metrics:
Customer Satisfaction (CSAT Score): measures the degree of customer happiness with a particular product, service or interaction.
Customer Effort (CEF Score): quantifies the amount of effort required to get customer support from the LMS vendor.
Customer Expectation (CEX Score): measures the gap between customer expectations and service received by the LMS vendor.
All of the above metrics are calculated based on a 5-step Likert scale from Strongly Disagree to Strongly Agree.
Our methodology was developed in collaboration with Dr. Panagiotis Zaharias who is scientific collaborator of eLearning Industry INC and UX expert.
An international recognition
Our MOS Chorus platform is a complete learning management (LEEMS), for both internal public and extended entreprise as well as authoring tool (LCMS) solution in one. The MOS Chorus LCMS enables to create interactive and media-rich content, collaboratively in online and offline mode.
Only European platform in this ranking, MOS Chorus proves its capacity to adapt to international markets demands.
They make us successfull!
We would like to thank our customers and users who participated to the good ranking of our MOS Chorus platform through their reviews !