As part of its mission to monitor the best providers of training services and technologies, eLearningIndustry.com announces its 2019 "Top 20 Best LMS based on User Experience".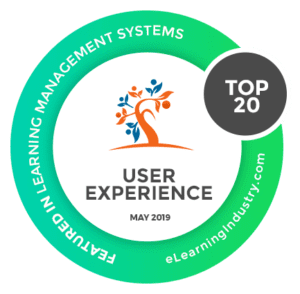 For the first time, MOS – MindOnSite is proud to be part of this ranking
Our MOS Chorus platform is a complete learning management (LEEMS), for both internal public and extended entreprise as well as authoring tool (LCMS) solution in one. The MOS Chorus LCMS enables to create interactive and media-rich content, collaboratively in online and offline mode.
An international recognition
This Top 20 LMS list has been planned following a holistic approach based on input from actual users who were willing to share their experience with the LMS.
The reviews have been verified one by one by eLearning Industry.
The order of appearance is a function of the following metrics:
System Usability Scale: The most widely used and validated metric for measuring ease of use.
Perceived Usefulness: The degree to which a user considers that the LMS maximizes their work performance.
Net Promoter Score (NPS): The metric that quantifies on a 1-10 scale how much users are likely to recommend the product or not.
They makee us successfull !
We would like to thank our customers and users who participated to our good ranking of our MOS Chorus platform through their reviews !
Click here to discover our customers reviews