Watchlist Learning Portal / LMS Companies 2019
TrainingIndustry.com announces its 2019 Learning Portal / LMS Watch List
Learning Portal / LMS Watch List 2019
As part of its mission to continually monitor and identify the best providers of training services and technologies, TrainingIndustry.com announces its Gamification Watch List 2019.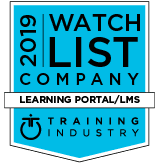 SEE 2019 GAMIFICATION WATCH LIST
MOS – MindOnSite is proud to be part of this watch list again !
MOS Chorus  is a complete suite of solutions for training management and content creation. It integrates 4 complementary modules to insure the follow-up, management and evaluation of training programs in an optimal way. It offers a large functional and graphic richness for a complete customiation.
LMS platofrm MOS Chorus is on the "Top 20 or WatchList Learning Portal Company" since 2010.
"Our 2019 Learning Portal/LMS Watch List companies are a source of innovation in the learning technologies market," said Danielle Draewell, market research analyst at Training Industry, Inc. "Many of these organizations are using advanced strategies like integrated artificial intelligence to transform the way learners interact with the platform and to better understand the data the system generates about their users."
A worldwide recognition
This award comes in addition to others obtain earlier this year: