A reliable Digital Learning ecosystem
Our entire ecosystem is based on common values and the same ambition to offer a unique, engaging and fluid digital training experience, while guaranteeing quality support.
Our clients
We help our clients target, set up, communicate and deploy a learning system that meets their objectives and adapts to their environment.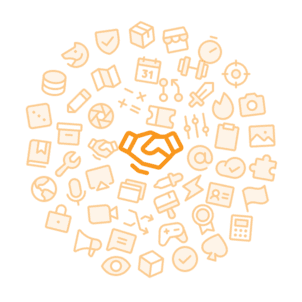 Ours partners
Off-the-shelf or customised content editors, serious games and simulators editor, training organisations, consultants and advisory services, we choose our educational and technological partners for their complementarity with our solutions, the innovation of their offers and the quality of their services.
Community MOS
A community of practice is a group of people who share a concern or passion for a particular area. Very informal and often spontaneous, it is based on regular exchanges between actors from the extended enterprise. It is the essence of the knowledge society, a privileged place for collective intelligence, innovation and the creation of collective knowledge.