Offer the best digital learning experience
Customise your digital learning portals, both in terms of design, to match your brand's digital identity, as in features to meet your and your employees' needs 100%. Thanks to our flexible and scalable training solution, choose from a range of features and tools including gamification, social learning, evaluation, blog posts, content creation and virtual class integration.
Make training a benefit for your employees and your business
Be bold and shift paradigms by implementing an alternative digital learning system to supplement your HRIS solution and react quickly to the business challenges that your organisation faces. Our digital learning solutions meet your specific operational needs and interfaces with your system for data centralisation.
Evaluate your teams and build their skills
With the digital learning portal, create, distribute and view all your employees' evaluation, certification and clearance campaigns in just a few clicks. Organise your skills repository by domain and topic. Involve your employees, managers and trainers with dedicated tools for better digital collaboration.
Offer powerful and customised
learning experiences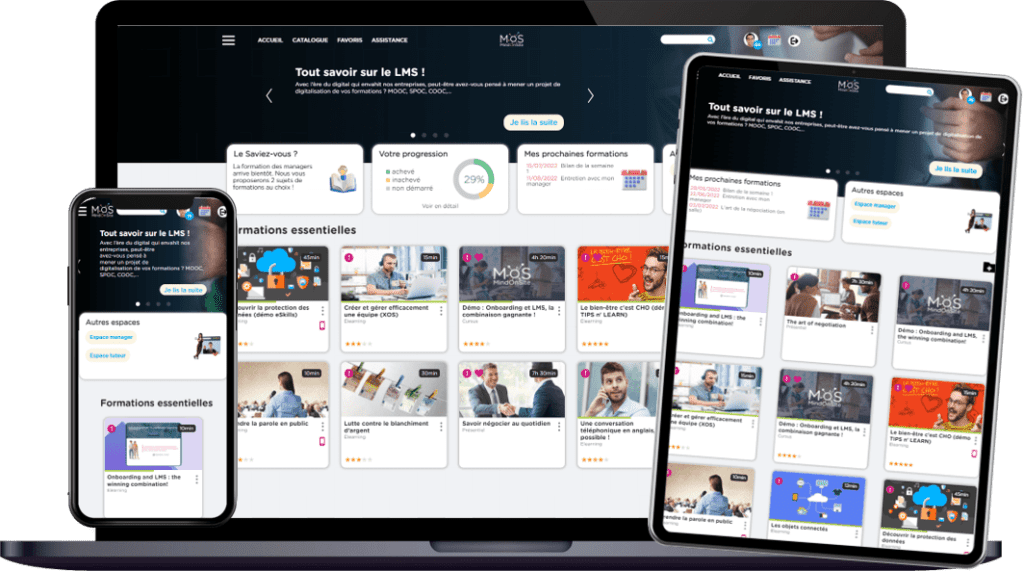 Customisation
Customise your learners' training and create a unified experience by matching your digital learning portal interface to your website or other tools in your IT environment. Create a familiar homepage design to introduce learners to their learning content and reinforce the sense of belonging.
Skills repository
Break down your training content into learning units matching various skills. You can associate each skill with a training course or an item in a course. For example, the skills to be validated trigger enrolment on courses and the different levels sequence the associated resources.
Gamification
Create emulation and game dynamics within your training system thanks to credits, badges, points, rankings and duels between learners.
Mobile Learning
Give your learners the opportunity to follow their training on any device (PC, tablet or smartphone) thanks to the mobile app, available in connected and disconnected mode for local use.
Questionnaires and quizzes
Offer various types of questionnaires and quizzes to punctuate your training courses and content. From self-assessment (integrated feedback on answers given) to end-of-course evaluation, our 7 exercise templates allow you to create more than 30 types of exercises.
Automated notifications
Thanks to MOS Reminder extension, send reminders and notifications by email and SMS to keep your learners engaged and informed of the latest training content posted, their registrations, date and time of training, etc.
Ready to take your employees training to the next level?