Our digital learning solution is designed for associations looking for a platform that can adapt to the educational needs of their members and volunteers. With Smart Learning Solutions, you can combine on-demand e-learning programs with virtual or even face-to-face courses. Discover our robust and customisable features and provide unique experiences for your learners and powerful analytics for your association.
Smart Learning Solutions for associations
Make all your members and volunteers want to be a part of your learning community
Improve the attractiveness of your training offer to your association's members and volunteers thanks to learning portals including gamification (badges, points, rankings, progression) and certification. Use the platform as a showcase for your training scheme to attract new members and volunteers. Design impactful learning experiences for a wide variety of members by providing content tailored to their needs.
Reinforce your organisation's culture with unified training material
Bring together all your training content into one or more learning portals designed especially for you, both in terms of graphics and features. Give your target audiences the same base of information and help them get immersed in the culture of your association movement.
Take action and make your platform an opportunity for development
Bring your members and volunteers together around your training scheme to give them the opportunity to broaden their knowledge and skills through further training. Provide separate spaces for your members to locate training courses and a virtual community space where they can share good practices.
Make training management easier
Managing hundreds or even thousands of learners requires discipline and focus. With an LMS solution that is fully integrated with your IT ecosystem, save time and reduce redundancy, from enrolling your learners to creating content and tracking badges and certifications. Continually adapt your training strategy easily and create, import and sequence courses to meet the needs of your members and volunteers. E-learning, quizzes, videos, virtual classrooms, let your imagination run wild to create an unforgettable training experience.
Provide a quality digital learning experience and content that is fun and engaging.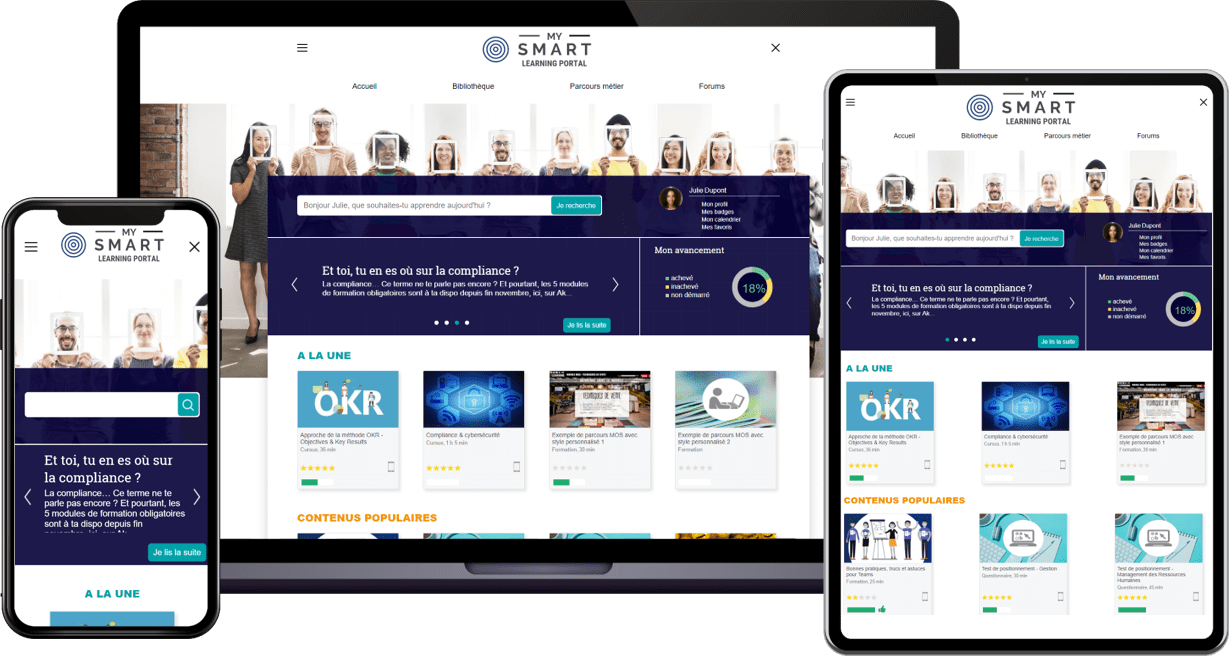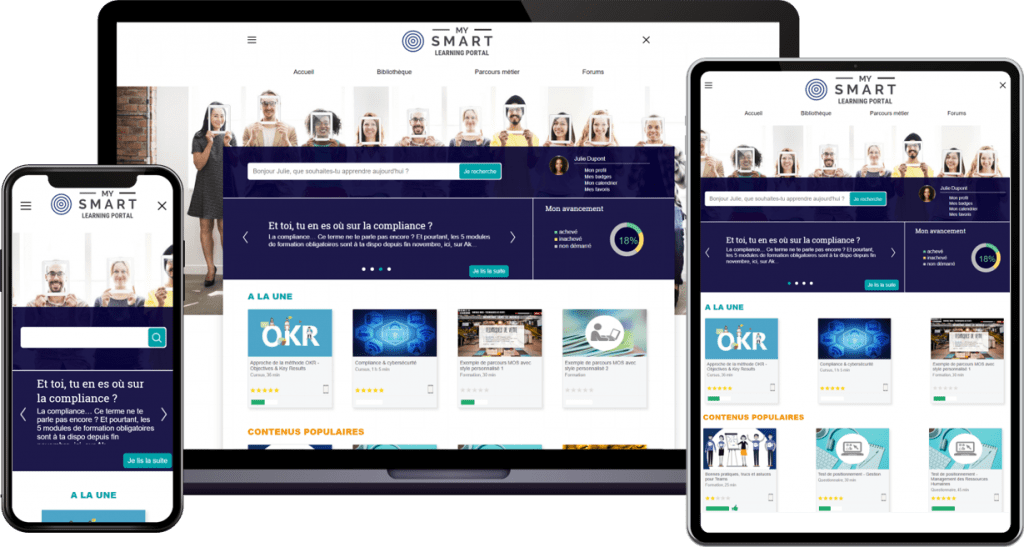 Interface customisation
Customise member learning and create a unified experience by matching your e-learning portal interface to your brand image. Create a home page with a familiar design to introduce members and volunteers to their learning content.
Personalised learning paths
Organise your members' training experience with a personalised learning path. Define courses to be taken based on the learner profile and set goals and skills for certification. Send automated notifications, mailings or text message to notify your members and volunteers of important information.
Multi-site management
Address  several groups of learners with distinct training portals according to your different targets and theme thanks to multi-site management. Customise these spaces according to your needs: URL, content, graphic and functional customisation, user lists and profiles, languages, services, etc.
Responsive design and mobile app
Give your members and volunteers the choice to follow their learning content on any device (PC, tablet or smartphone) thanks to the responsive design. Go even further by offering a mobile application adapted to the daily uses of your target learners.
Gamification
Create emulation and game dynamics within your training system thanks to credits, badges, points, rankings and duels between learners.
Reporting and certification
Provide and track competency-based licenses and certifications for your members and volunteers. Grant, manage and renew your learners' certificates easily to comply with your association's regulations.
Authoring tool and content import
Quickly create your training courses and questionnaires and increase the interactivity of your training courses thanks to 7 exercise templates allowing you to create more than 30 types of exercises. Easily enrich your modules by importing documents, images, podcasts, videos, animations and third-party content (HTLM, AICC, SCORM, etc.). The task manager also facilitates collaborative work between authors and contributors.
IT integration
Seamlessly integrate your HRIS, ERP and CRM systems for a unified experience. From single sign-on to registration management and reporting, our Smart Learning Solutions integrate with multiple vendors and support your authentication preferences.
Ready to unlock the potential
of your learning community?