Your trainings directly accessible on your mobile devices in online/offline mode !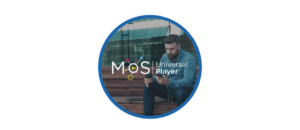 MOS Universal Player  is an application developed by MOS – MindOnSite. It lets learners access their eLearning courses and follow them on their smartphone or tablet, whenever their are at home, on the move or simply offline.
Learn and train even offline
You download your eLearning courses before leaving and follow them offline anytime and anywhere you want. Your scores and progress are saved locally and then synchronised with the LMS platform, as soon as you are back online.
Log in fom any mobile device
When you are online, you connect to your learning portal to follow your eLearning content. All your results and progress accomplished online and offline are all centralised in the LMS platform MOS Chorus.
Follow your progress
Discover and follow-up all your results from your results area directly on the app. Display all the badges you obtained and those you still have to get.
  Learn at your own pace
MOS Universal Player app allows you to optimize your time thanks to mobile access and offline mode. You can train at your own pace in the most suitable moments.
Become a content creator
Create videos related to your business themes and enrich training systems by sending your content directly through the app.
Ressources at your disposal:
Download the app:


Want to know more?